An up close and personal interview with Coast Guard Veteran and TWS Member:

MCPOCG8 Vince Patton, Retired (1972-2002)



WHAT PERSUADED YOU TO JOIN THE SERVICE?



Joining the service was a rather easy decision for me ever since I was ten years old. My oldest brother, who is 8 years older than I, joined the Navy. I always looked up to him (even now actually), and wanted to be just like him. So for at least seven years all I kept talking about was joining the Navy to be like my brother Greg (he eventually stayed in for 34 yrs, retiring as a CAPT/O-6). However, at age 17, when I was old enough to sign up for the delayed entry program, I chose the Coast Guard. That's an even longer story ... but the short answer here, I actually walked in to the wrong recruiting office, thinking I was going to see a Navy recruiter. Back in 1971 at the time, the Coast Guard uniform was the same as the Navy's, with the exception of the 'Treasury Shield' on the right sleeve, and the hats for enlisted were different (we used to wear the old 'Donald Duck' hats). After realizing I walked into the wrong office, I was too embarrassed to walk out, so I decided to wait until the recruiter finished talking to me, and then go join the Navy. However, not ever knowing anything about the Coast Guard at the time, I became really interested in their mission, and the fact it is a small service. So, after seven years of telling everyone from my parents, my brother, friends and teachers at school about going in the Navy to be like my brother, I enlisted in the Coast Guard's delayed entry program in January 1972, and shipped off to Boot Camp in June 1972 just three days after I graduated from high school.



BRIEFLY, WHAT WAS YOUR CAREER PATH IN THE SERVICE?



After finishing boot camp in August 1972, I went off to Radioman (RM) 'A' School at Coast Guard Training Center, Petaluma, CA (about 70 miles north of San Francisco). I went 'RM' mainly because I had some experience in radio communications and knew Morse Code from my merit badge earnings in the Boy Scouts. I initially wanted to be a Hospital Corpsman, but the school was too long of a wait, so I went RM. It wasn't a bad choice at the time. After RM School, I reported to the USCGC DALLAS out of Governors Island, NY, after two years there, I moved on to Coast Guard Group/Air Station Detroit (my hometown). In 1976 I reenlisted, then reported to Coast Guard Recruiting Office Chicago, IL. After my tour of duty as a recruiter was up in 1978, I decided to change my occupational specialty rating from RM to Yeoman (YN). After my tour in Chicago, I moved on to the Ninth District Office in Cleveland, OH, where I worked in the personnel office, then later became the district's career information specialist. While I was in the Coast Guard up to that time, I continued on with taking college courses through the Service member Opportunity College Program (SOC), earning up to my Master's Degree in 1979. In 1981 I became the first Coast Guard enlisted member to be selected for postgraduate school program, where I was transferred to Washington, DC to attend The American University, working on my Doctorate in Education. My dissertation was based on the development and implementation of the Coast Guard Enlisted Evaluation System, which was the purpose of my selection for the postgraduate program. After graduating from American University in 1984, I remained on the Headquarters staff involved with the implementation of the new evaluation system. In 1985, I then went back to sea to the USCGC BOUTWELL, when it was then home ported out of Seattle, WA. After a three year tour on BOUTWELL, I returned to Washington, DC (the Coast Guard wanted to get their money's worth out of me for that doctorate degree), and served as the first enlisted training manager for the Coast Guard's enlisted training programs. These billets were previously done by officers and civilians. In 1993, I was advanced to Master Chief, served on a six month special assignment with the DOD Task Force, and afterwards elevated to the 'Command Master Chief' status and transferred to the Coast Guard Atlantic Area, first out of New York, then Portsmouth, VA. In 1998 I was selected as the Eighth Master Chief Petty Officer of the Coast Guard (MCPOCG), and retired in 2002.



DID YOU PARTICIPATE IN COMBAT OPERATIONS?



I served as the senior enlisted advisor to Joint Task Force 160 during 1994 as part of 'Operation Support Democracy' which was the largest alien migration operation in history, where I worked in both Port-au-Prince Haiti and Guantanamo Bay Cuba. The assignment was a temporary detailed position while I was the Command Master Chief for the Coast Guard Atlantic Area command.



YOU WERE AWARDED THE DISTINGUISHED SERVICE MEDAL. CAN YOU PLEASE DESCRIBE HOW THIS WAS EARNED?



I was awarded the DSM principally for my performance of duty as Master Chief Petty Officer of the Coast Guard, where I was actively involved with the Coast Guard operations around '9-11,' as well as the responsibilities I executed during my tenure as MCPOCG.



FROM YOUR ENTIRE SERVICE CAREER WHAT PARTICULAR MEMORY STANDS OUT?



There's two actually; first was when I was assigned to Joint Task Force 160, where I got an up close look at seeing literally hundreds of people from Cuba and Haiti defying all odds to try to get to the United States. They came in just about anything that floated. I remember seeing a giant door from a church that served as a raft with six people onboard that traveled just about 50 or so miles before we were able to stop them. Bad weather was looming and they certainly would not have made it the rest of the way. Then there are the hundreds of young children, mostly malnourished with a look of desperation and hunger that just wanted to be taken care of. It was an operation that really worked on the psyche. Many of the service members involved in this operation were touched by the desperation that these people had in doing whatever it took to try to reach the U.S. in hope for a better life. It was a horrifying experience, and as I think of the earthquake in Haiti today, I can't help but think about seeing the faces on the people who spent days just floundering in the Caribbean Sea trying to reach land. Unfortunately I remember the large number of bodies from capsized makeshift vessels we came upon as well.

The other is during the events of '9-11'. Most noteworthy was my walk along all three of the "Ground Zero" locations in NY, PA and the Pentagon, and seeing the huge destruction caused from the terrorist acts. That too was a sobering moment, but with it came a time of seeing people rise to the occasion in helping one another. I also recall my visit to the Trinity Church in lower Manhattan, just a few blocks from where the World Trade Center towers stood. While there was complete destruction all around the area, that tiny little church on Rector Street, which also had a small graveyard with the remains of some of our founding fathers such as Alexander Hamilton (the Father of the Coast Guard), the place was pretty much untouched, with exception of debris from the destruction all around. It was an amazing sight to see, where the only damage on the church was a broken window, but on either side as well as in front and in back of the church the buildings were completely destroyed from the crashing of the airliners. It's a sight that will forever be etched in my memory and one that sticks out of truly understanding the power of spirituality.



WHICH INDIVIDUAL PERSON FROM YOUR SERVICE STANDS OUT AS THE ONE WHO HAD THE BIGGEST IMPACT ON YOU...AND WHY?



There were two people that I must mention here. The first one was Hollis Stephens, who served as the Third Master Chief Petty Officer of the Coast Guard. I worked for Master Chief Stephens when I was assigned to Coast Guard Group Detroit. I'll never forget what he did for me in encouraging me to pursue my education while I was on active duty. He was the catalyst for me to want to pursue to become the Master Chief Petty Officer of the Coast Guard someday, rather than become an officer. The other person is Admiral James Loy, who was Commandant during my tenure as Master Chief Petty Officer of the Coast Guard, but I also worked for him as his command master chief in Atlantic Area. The admiral believed in me, and just let me do my thing, knowing that I truly was there to support him. It's refreshing to know that your boss really trusts you in everything. He gave me the hard jobs knowing that I could handle it, and showed me just what the true meaning of leadership is all about. Just about anyone who knows or has served with him from his days in Vietnam all through his illustrious career would probably say the same thing about him as I am. He's the kind of guy that you would literally "walk through fire" without question if he asked you to.



WHAT PROFESSION DID YOU FOLLOW AFTER THE SERVICE AND WHAT ARE YOU DOING NOW?



I'm probably busier now than I was on active duty. After I retired, I decided I needed to go back to school just one more time ... this time to fulfill a personal desire to become an ordained minister. After graduating from the Graduate Theological Union two years after retirement, I became an ordained Unitarian Universalist minister with the specialty in community service ministry. I work as a part-time minister in a voluntary capacity with my church, Mt Vernon Unitarian Church in Alexandria, VA. In addition I serve on my denomination's Trauma Ministry Response team assisting with pastoral care in disaster situations. For my paid job, I'm director of community outreach for Military Advantage/Monster Worldwide, where I oversee our government contracted programs involved with Veteran employment, manage our career fairs, and responsible for our customer service department. I am actively involved with assisting our transition program for our Wounded Warriors. I also serve in a voluntary capacity on the First Command Educational Foundation, which is involved with providing financial literary education to high school students, and also as a member of the Board of Visitors for the National Defense Intelligence College, which is a presidential cabinet-level appointed position.



HOW HAS SERVING IN THE COAST GUARD INFLUENCED THE WAY YOU NOW APPROACH YOUR LIFE AND CAREER?



My 30 years of service taught me the value of living both the service's core values of Honor, Respect and Devotion to Duty, as well as my own personal core values that I've developed - People, Passion and Performance. I've learned that in "People" - it really is about taking care of the needs of those you serve with and for in all capacities. By "Passion" I refer to our sense of belonging - embracing our history, heritage and traditions of our service as well as our country. "Performance" is quite simply, prepare yourself well, so you can perform well, never let people down, and live with a sense of confidence, compassion and integrity. I've taken these personal values and those of the Coast Guard with me in my personal as well as professional life today. It's probably one of the main reasons why I wanted to go into the ministry after I retired.



HOW HAS TOGETHERWESERVED.COM HELPED YOU TO MAINTAIN A BOND WITH THE SERVICE AND THOSE YOU SERVED WITH?



I'm delighted to see so many people who I have served with or came across after so many years. It's a delight knowing that I'm part of an exclusive group of people who all share in the same common bond of our pride in our service and what we've done, as well as rekindling the memories of all the good times (and bad times) that we've shared during our time together. We may have packed away our service uniforms, awards, etc - but we haven't stored our memories away. 'Togetherweserved.com' helps us to keep this bond together!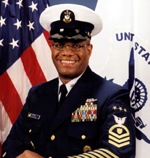 MCPOCG8 Vince Patton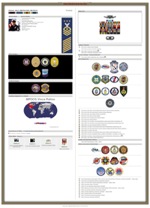 View MCPOCG8 Vince Patton's Shadowbox on TWS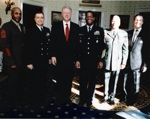 Service Senior Enlisted