An up close and personal interview with U.S. Coast Guard Veteran and Togetherweserved.com Member:
CWO3 Steven Carriere U.S. Coast Guard (1989-Present)
PLEASE DESCRIBE WHO OR WHAT INFLUENCED YOUR DECISION TO JOIN THE COAST GUARD?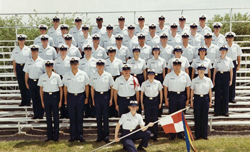 I graduated high school in 1984 and attended college for two years pursuing business and retail management curriculum. I had a very hard time adapting to the new found independence of college life so in 1986 I dropped out and bounced around working some retail jobs on the East and West coasts. After returning from California, I couldn't get my old job back as an assistant manager with a drug store chain and had more recently been fired from a construction job. I started selling books door to door and working in radio advertising in late 1988. In early 1989 I found out I was going to be a father.

At that point I knew the path I was headed on wasn't going to be a good source of support for my new family. I contemplated joining the services for some time and when I heard about the Coast Guard, I was immediately intrigued with the humanitarian and law enforcement aspect of the service. I signed up in February 1989 and the rest is history.

WHETHER YOU WERE IN THE SERVICE FOR SEVERAL YEARS OR AS A CAREER, PLEASE DESCRIBE THE DIRECTION OR PATH YOU TOOK.

I started out in recruit training at Cape May, New Jersey in Uniform 130 and switched over to the Ceremonial Detail as a member of the rifle drill team.

After recruit training I was assigned to CGC Harriet Lane (WMEC-903), and promoted to Seaman (E-3). In February I attended Quartermaster
"A" School in Yorktown, Virginia, and upon graduation, promoted to Quartermaster 3rd Class (QM3), and transferred to USCGC White Heath (WLM-545), a coastal buoy tender, in Boston, Massachusetts.

In 1992, I was promoted to QM2 and transferred to Key West, Florida aboard USCGC SHEARWATER (WSES-3), my first independent duty tour. USCGC SHEARWATER was decommissioned in early 1994, so I transferred to a staff job in Boston. I was promoted to QM1 in July 1995, and in November I returned home to Maine for the first time since joining the Coast Guard, assigned to USCGC JEFFERSON ISLAND (WPB-1340) in Portland ME as operations petty officer.

In 1997, I transferred back to Key West, taking another 110' patrol boat assignment on USCGC SITKINAK (WPB-1329). After my tour there, I wanted to stay in Key West and was assigned as a search and rescue operations controller at Group Key West.

In the spring of 2001, I transferred back to New England to my third patrol boat, USCGC GRAND ISLE (WPB-1338). While there, I was promoted to Chief Petty Officer in May 2002, and transferred to CG Group Boston as the Operations Center Supervisor. The Coast Guard merged the Quartermaster and Boatswain Mate ratings, and taking advantage of the opportunity to pursue my first command tour, I left Group Boston and was assigned to USCGC VASHON (WPB 1308) as Executive Petty Officer. VASHON was a former 110' patrol boat converted to a 123' as part of the Coast Guard's Deepwater Project. I left in October 2006 to return to Maine for a brief tour at Sector Northern New England, South Portland, Maine as boarding officer and a member of the Response Division.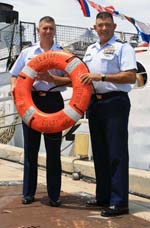 In June 2007, I was promoted to Chief Warrant Officer and was assigned to Boat Forces Center, in Yorktown, Virginia as the Assistant Chief of Afloat Training Operations. In August 2009, I short toured again, taking an afloat assignment as the First Lieutenant on board USCGC GALLATIN (WHEC-271) in Charleston, South Carolina. I served three years aboard, helping the crew bring her back to service after nearly two years of dry dock and pier side maintenance. GALLATIN finally sailed in the mid-late summer of 2011, nearly two years after I reported aboard, and her impact was immediate. We earned the Battle "E" ribbon during our 2011 Cutter Assessment of Readiness and Training (CART), and TSTA (Tailored Ship's Training Availability) periods in Mayport, FL, then went on to record at least two huge cocaine seizures and one marijuana seizure during that first patrol. The morale couldn't have been any higher during that period; all the hard work the previous and current crew had put into making GALLATIN the hardest working "GAL" in the fleet paid off immensely!

After two more patrols on board, I was promoted to CWO3 in March 2012, and transferred to USCGC Willow (WLB 202) in July 2012, my first buoy tender in over 20 years, where I am currently stationed.

DID YOU PARTICIPATE IN COMBAT OPERATIONS? IF SO, COULD YOU DESCRIBE THOSE WHICH WERE SIGNIFICANT TO YOU?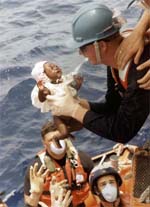 I did not personally receive any awards for valor. The majority of awards I have received have been unit or Coast Guard awards in response to surge operations, such as 'Operation Frontier Shield,' 'Operation Able Manner' 'Operation Uphold Democracy,' or in response to humanitarian events, such as the Haitian migration operations in the early to mid-1990?s, 9-11, and Hurricane Katrina.

I have received several personal awards, including Commendation Medals, Achievement Medals, and Letter of Commendations, for personal performance in the course of duties.

FROM YOUR ENTIRE SERVICE CAREER WHAT PARTICULAR MEMORY STANDS OUT?

Definitely 9-11 and Hurricane Katrina stand out the most.

I was aboard the GRAND ISLE as we pulled into the harbor on September 12th. My cutter was not the actual first one on the scene, as we had just left NYC the day before and were pulling into Gloucester as the attacks happened. We didn't waste a lot of time turning around and getting back underway, however, and made it back to the Lower Battery that evening.

The first night of patrol along lower Manhattan and the Hudson River were mind numbing, seeing and smelling the smoke, fuel, burning acrid smells of metal, concrete, and anything else that burned or collapsed. All of the thick smoke just hung over the harbor like a blanket. From our initial vantage point we could see the huge rubble piles, vehicles and fire trucks that were completely destroyed.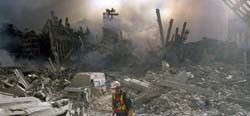 The massive destruction, loss of life, and seeing all of that first hand while being there knowing people were looking to us for comfort and strength was very overwhelming. I can remember at times, after standing many hours on watch, or finally getting a break from all of the security escorts for humanitarian supplies delivery, finally just taking a breath and wondering why and how this all could have happened. There were times that I almost felt guilty because there were so many people directly affected by what happened and it also felt like we couldn't help people fast enough, because of the massive expanse of destruction and damage there was to clean up. After a few days, we ended up being assigned to sit off of the UN building as a security presence, and later as a security platform off of the Indian Point power plant.

A close second would have to be Cuban migrant operations. When I was first assigned to Key West in 1993, the FWFD [Feet Wet Feet Dry] Policy had not yet been implemented, so we could pick migrants up at sea and bring them to the United States. It was heart wrenching to see young children and babies in these leaky, dangerous rafts. They were very thankful that we were able to rescue them. But I often wondered for the dozens of kids and families we rescued at sea, how many never made it? It drove home the seriousness of conditions in Cuba and was a stark reminder of how desperate people will go to have a better life, and reminded me even more that I am very fortunate to live in a country where neither my feelings nor speech will ever be repressed, regardless of whether I agree or disagree with someone. Furthermore, I am grateful to live in a country where I can choose to serve, instead of being forced to do something against my will.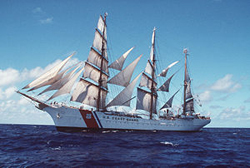 Finally, I have wonderful memories of all of my temporary assignments aboard other cutters. I was very fortunate to have sailed on board CGC EAGLE (WIX 2) twice in my career, the first time in October 1991, and the second in September 2000, helping to train the Coast Guard's future officers during Officer Candidate Cruises. I met many wonderful people during both short trips and enjoyed some very memorable port calls, including Washington DC, Gloucester, MA, and Yorktown, VA. I've also had the opportunities to serve out of rate when I was a Boatswain Mate, using my operations center skills on board CGC DALLAS in 2004 during Operation Uphold Democracy.

IF YOU RECEIVED ANY MEDALS FOR VALOR OR AWARDS FOR SIGNIFICANT ACHIEVEMENT, PLEASE DESCRIBE HOW THESE WERE EARNED.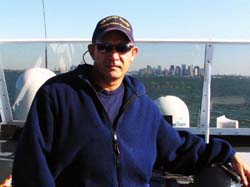 I did not personally receive any awards for valor. The majority of awards I have received have been unit or Coast Guard awards in response to surge operations, such as 'Operation Frontier Shield,'Operation Able Manner,' 'Operation Uphold Democracy,' or in response to humanitarian events, such as the Haitian migration operations in the early to mid 1990's, 9-11, and Hurricane Katrina.

I have received several personal awards, including Commendation Medals, Achievement Medals, and Letter of Commendations, for personal performance in the course of duties.

OF ALL THE MEDALS, AWARDS, QUALIFICATION BADGES OR DEVICE YOU RECEIVED, PLEASE DESCRIBE THE ONE(S) MOST MEANINGFUL TO YOU AND WHY?

The Humanitarian Service Medals. I was fortunate to be part of some major Coast Guard operations in my career, and the Humanitarian Service Medal, in my opinion, reflects the spirit and character that the Coast Guard is all about.

WHICH INDIVIDUAL(S) FROM YOUR TIME IN THE MILITARY STAND OUT AS HAVING THE MOST POSITIVE IMPACT ON YOU AND WHY?

CWO4 Leslie Blackburn, my former commanding officer onboard USCGC WHITE HEATH (WLM-545)by far impacted me the most. I was a young QM3 at the time, and serving on a coastal buoy tender. He was a very seasoned and experienced individual who always shared a wealth of knowledge about ship-handling, piloting,
celestial navigation, and communications. The list could go on. He was always willing to teach, and always gave you room to make mistakes that you could learn from without putting yourself or the ship in peril. I felt really inspired by him to learn as much as I could and progress in my career. Most CG cutters at that time rarely had young petty officers as DWO's except the small patrol boats and coastal tugs. It was definitely a huge stepping stone in my career that taught me a lot about ultimate responsibility, and set me up for success on my future underway tours. Mr. Blackburn definitely had a big part in being one of my most successful mentors.

More recently, my commanding officers on USCGC VASHON (WPB 1308), CWO4 (now LCDR) Gerry Canavan, and CWO4 (ret) Rick Loster were two of the best commanding officers I could have worked for. I learned a lot about command relationships, setting goals for your people and letting your people have room to make mistakes without making them feel like failures. Most importantly, they helped me understand the value of always being of servitude to your crew. The more you let them know you are there to serve them professionally, and take a genuine interest in their well-being, as well as the well-being of their families and what matters most to them, the more they will love coming to work, being of service to their shipmates, and being of service to the Coast Guard.

WHAT PROFESSION DID YOU FOLLOW AFTER YOUR MILITARY SERVICE AND WHAT ARE YOU DOING NOW? IF YOU ARE CURRENTLY SERVING, WHAT IS YOUR PRESENT OCCUPATIONAL SPECIALTY?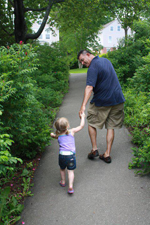 I am still active duty, approaching 25 years of service. I hope to serve a few more years and then possibly retire to spend time with my daughters and three grandchildren.

In the meantime I am working on completing my college degree, parlaying my military skills from my sea time and current buoy deck experience into civilian skills for employment after retirement. I am also working to move forward with my bachelor's degree pursuit.

WHAT MILITARY ASSOCIATIONS ARE YOU A MEMBER OF, IF ANY? WHAT SPECIFIC BENEFITS DO YOU DERIVE FROM YOUR MEMBERSHIPS?

I am a member of the Chief Petty Officers Association, the Chief Warrant Officers Association, and most recently, a plank-owner of the Coast Guard's Cutterman's Association.

IN WHAT WAYS HAS SERVING IN THE MILITARY INFLUENCED THE WAY YOU HAVE APPROACHED YOUR LIFE AND YOUR CAREER?

Before the service, I had no goals, no plans, and no future. I took things as they came, but had no vision for my future. Being in the service gave me the opportunity to take responsibility not only for my professional career, but my personal life as well. There have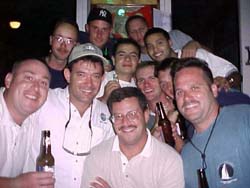 been highs and lows both personally and professionally, but one thing has definitely remained constant - the Coast Guard and many of the wonderful people, aka shipmates, that I have served with who have always been there to help me, occasionally give me the kick in the butt that I needed when I was headed down the wrong path, or have shown me paths to open doors when the opportunities I may have wanted weren't quite what I needed at the time. I learned that I may not get what I want the way I want it, but if I stop long enough to step back and see what is happening, the path I NEED to take is always right there in front of me. I love what I do, I have always loved the adventure, excitement, and learning opportunities the Coast Guard provided and made available, and would never have second guessed this decision at all to join.

BASED ON YOUR OWN EXPERIENCES, WHAT ADVICE WOULD YOU GIVE TO THOSE WHO HAVE RECENTLY JOINED THE COAST GUARD?

Find the balance. The military is a wonderful career, but it is not all there is to life. Work is not all there is to life. The Coast Guard will still survive, long after we are gone, but our lives today are what are most important. Family needs to be a person's number one priority in life. Make sure you are there for them. Find the joy in what makes you happy and pursue it. Take advantage of the educational opportunities that are out there, get your degree! I sound a little hypocritical since I have waited so long to do this, but it is never too late. And, even though the military does provide a comfortable lifestyle, never close your mind to options, and always have a plan for your future.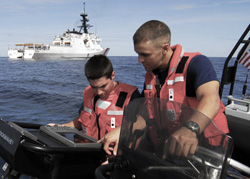 For the young kids who are just starting out and in their first tours, save your money! So many kids today are so wrapped up with having a good time, having the latest IPOD, sweetest looking car, fanciest cell phone, or going out and having a good time, then before you know it, you are in debt, you can't afford the house you want, and you're wasting your money in rent and other credit card bills. Get with a financial planner immediately, start saving, and set yourself up with investments and retirement deposits. Budget your money, learn to live with what you have, not what you want.

And finally, always be cognizant of your decisions, whether professionally or personally. The things we do, get involved in, or sometimes ignore can have a profound effect on how things turn out in our future. Have fun today, but always have that foresight and vigilance to be able to do the right thing, even when it may not be the most popular. Lay the groundwork for your character early in your life and career.

IN WHAT WAYS HAS TOGETHERWESERVED.COM HELPED YOU REMEMBER YOUR MILITARY SERVICE AND THE FRIENDS YOU SERVED WITH.

I've been able to locate a lot of old and former shipmates and friends who have had a wonderful impact on my career. The bonds of service are one of the strongest bonds out there, and I couldn't be thankful enough for having the friends and shipmates I have in the Coast Guard today.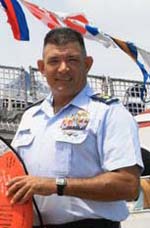 CWO3 Steven Carriere
Contact This Member


Read Other Interviews in the TWS Voices Archive