An up close and personal interview with U.S. Coast Guard Veteran and Togetherweserved.com Member:
BMCM Tracy Johnson U.S. Coast Guard (Ret) (1970-2002)
PLEASE DESCRIBE WHO OR WHAT INFLUENCED YOUR DECISION TO JOIN THE COAST GUARD?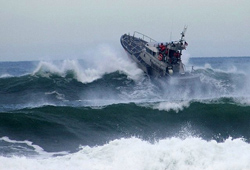 There were actually a few things. First my uncle BM1 Daryl Weber did 20 years and every time he would visit he always seems extremely happy and proud of his service. I wanted those feeling also.

Second I lived in Garibaldi, Oregon just down the street from Coast Guards' Tillamook Bay Station and we would watch the men run to the 44 footer and head out over the bar to assist boaters. The Tillamook Bay bar is notoriously deadly with at least 17 lives lost in the past seven years making it the most treacherous bars on the Oregon coast. This recent photo shows a 47-footer racing out on a rescue mission through high crashing waves.

Always thought it was ironic that I loved to watch the motor life boats going through the surf and saw myself coming home to do that work, the CG on the other hand seemed to know better and after I found that sea sickness was always a factor I'm really glad I served on larger vessels.

WHETHER YOU WERE IN THE SERVICE FOR SEVERAL YEARS OR AS A CAREER, PLEASE DESCRIBE THE DIRECTION OR PATH YOU TOOK.

I liked to drive boats so making the Coast Guard a long career was a natural fit.

On my first cutter, the USCGC Sorrel (WLB-296) out of Seward Alaska, Chief John Nord saw something in me and believed I could drive a boat and had me running all the ATON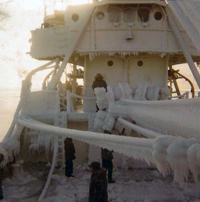 (Aids to Navigation) runs. I really enjoyed the chance to get away from the cutter and use my independent decision making. On the morning following a brutal winter storm in the Bearing Sea the Sorrel was caked in thick, heavy ice from stem to stern. We had to use baseball bats to break away the ice.

My second unit was Sabine Pass Station in Sabine, Texas where I learned to drive SAR boats and qualified as a SAR Coxswain on 30' and 40' boats and also at Radio Beacon Station Calcasieu in Cameron, Louisiana where I was in charge of Deck and a 40' Coxswain. Ours was the last Active Radio Beacon Station in the Coast Guard. We also maintained the Aids to Navigation (ATON) on the Calcasieu River up to Lake Charles near New Orleans.

When assigned to USCG Support Center Kodiak after the Coast Guard took over the base from the Navy, I was detailed to the Security Department/Force as a new BM2 and given a truck to patrol the base as a patrolman. To prepare me for the job, I was sent to school at Lackland AFB in San Antonio to learn how to become a Security Specialist. An important part of the job was teaming up with the Alaska State Trooper in trying to stop drugs from getting into population centers along the coast. It was a good job and always figured had I not loved to drive boats I would have pursued Law Enforcement as a career.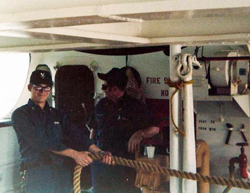 Following that assignment I was transferred to my next cutter the USCGC Walnut (WLM 252) where I got my first U/W Deck Watch Officer letter as a 23-year old BM1. I enjoyed the responsibility laid on me. In 1978 I was assigned to first Command cadre job as XPO Sturgeon Bay Canal Station, Wisconsin where I got to operate the new 41' SAR boat and accept greater leadership roles.

After one year I took the test for BMC and on July 1, 1978, six days before my 8th anniversary in CG, I made Chief. My OIC BMC James Sebastian recommended me to fleet up and I relieved him the next month when he was promoted to CWO. So here I was starting my first daunting OIC job as a 25 year old and surviving it.

After that it was back to a ship as the Division Chief and DWO in southeast Alaska on the USCGC Woodrush (WLB-407). One spectacular trip was when we sailed in Glacier Bay with a couple of tours guides we had picked up in Gustavas, Alaska. They took us to where we could watch the breaking off of chunks of ice at the edge of a glacier, a process called glacier or iceberg calving often accompanied by a loud cracking or booming sound. What a beautiful sight.

My next assignment was one of the best kept secrets. Imagine working aboard a Buoy Tender out of Portland operating from Astoria, Oregon to Lewiston, Idaho sailing down the scenic Columbia, Willamette, Snake and Clearwater Rivers.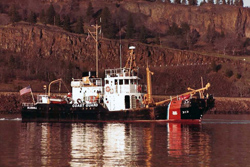 This was a great three-year assignment as the XPO Afloat on USCGC Bluebell (WLI 313). It was a tough job but as we have all said "someone has to do it."

My next duty station was ANT Port Angeles, Washington as OIC. This turned out to be an intense one year. We set up a team to relieve Air Station Port Angeles of ATON response duties. We worked closely with the Air Station and the National Guard from Whidbey Island setting up a flying ANT. At the end of my year as OIC, I was promoted to Senior Chief. With the promotion came a new job as OIC USCGC Hatchet (WLIC75309) working the Galveston Bay before the Houston Ship Channel was widened. We had constant employment there as the barge traffic would knockdown about 10-12 light structures a week causing us to be underway every Tuesday and back home in Galveston every Friday.

During this time the Coast Guard Personnel came up with a plan to change the command structure of some of the new 110 foot island-class patrol boat. They were originally commanded by LTs and LTJGs. The thought, as explained by my detailer was to find Senior Enlisted with command experience and pair them with brand new LTJGs as their XPO's. While it appeared to be a step down from OIC it was a challenge for me. Fortunately they paired me with an extremely competent CO, LTJG Robert McCarty. We worked well together and made a good team.

The next cutter I was assigned was the USCGC Cuttyhunk (WPB 1322 which also docked at Port Angeles. It was sure nice to be on a cutter that went more than 10 knots. The Cuttyhunk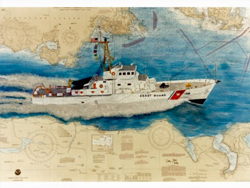 missions included law enforcement--primarily drug and illegal alien interdiction duties. It was also involved in Homeland and port security, search and rescue and defense readiness missions.

I then worked my way into the "Corn field" Coast Guard, the old Second District, and was assigned to the USCGC Patoka (WLR 75408) in Greenville Mississippi in 1992. I had never been on the Mississippi with the exception of a very short trip on Hatchet from Harvey Locks to the Old CG Base at Industrial Lock. Fortunately the Patoka's XPO was patient and being somewhat of a quick learner, I was soon able to handle it. One thing that always amazed me was when high water arrived how much water actually comes down that River. When the river was high we had to move out of the mooring and wait for it to lower. High water was also a great place for snakes to hide. Shortly after I arrived we moved into a newly constructed mooring on higher ground solving the "high water" problem for good.

I was on the Patoka for four years before being transferred to the USCGC Kickapoo (WLR 75406) in Vicksburg, Mississippi, just 100 river miles south of Greenville.

On the Kickapoo I got to work with true professionals in the Corps of Engineers (COE) and the mariners operating along the river. In the course of my work I was able to ride on some large commercial tow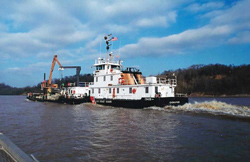 boats and see why they prefer buoys to be in a certain place and how the used our system. It was in this final assignment where my lifelong love for Towboats began.

As you see I like driving boats and would have continued in the CG to do so but after 23.5 years sea time and 32 years total active service, it was "decided" for me to retire, which is a story in itself.

During the 1990's the Coast Guard Commandant came up with the High Year Tenure Program to (HYT) designed to alleviate the so called "Packed pyramid." The program basically changed my "I love this and want to drive boats forever" to being told "Hey, next year you're out." I was able to convince the Personnel Office to allow me to go two years longer which I was grateful as it gave me a little longer to prepare. But as I was preparing to retire the tragedy of 9/11 struck and I was "asked" to reconsider retirement and remain on active duty. I was pretty excited because I really was enjoying the Coast Guard but when I asked what boat I might be going to I was told I was not qualified and that the Asst. Director of Auxiliary was just the job for me. I would have loved to stay since I had 23.5 years of sea time I assumed they could do better and continue to use me in an operational role on a cutter but no. So I went through with the retirement.

OF ALL YOUR DUTY STATIONS OR ASSIGNMENTS, WHICH ONE DO YOU HAVE FONDEST MEMORIES OF AND WHY? WHICH ONE WAS YOUR LEAST FAVORITE?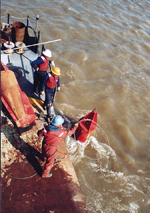 It would be very difficult to pick one vessel. I will say I really enjoyed the ATON (Aids to Navigation) mission and in particular the last 12 straight years on the Mississippi on the River Tenders. Duty on the Mississippi is extremely independent duties as the OIC makes up his schedule and perform without the Group really becoming involved. This made good sense since we were always operating in a somewhat dangerous environment where immediate actions were required.

The photo shows our using the tried and true method for buoy recovery on the Rivers: Roping Buoys then hauling them on deck with capstan.

I am very proud of the trust the Coast Guard place in my professionalism and competence as the OIC to be in a position to act independently.

FROM YOUR ENTIRE SERVICE CAREER WHAT PARTICULAR MEMORY STANDS OUT?

Wow, again so many things over so many years. Maybe the one that stands out the most is being called to take USCGC Cuttyhunk (WPB 1322) to Central America to train Costa Rica's Coast Guard in detection planning and drug interdiction. The USCG had given them an excess 95 foot
WPB prior to us arriving and our job was to get the vessel and crew up to speed. Our engineers helped repair ships service system while our deck personnel taught boat handling skills and maintenance of deck equipment. We also held classes on arrest techniques and search procedures.

One of the more interesting things that happened while on a training mission was seeing a drug cartel air craft mistake a fishing boat for a drop boat and dropping many bales of pure cocaine down to the fishermen. We simply sailed over and seized the 72 pounds of cocaine. That pilot probably lost his job and maybe his life.

Since we were already in Central American it was decided by higher-ups that we would assist Panama's new government following Noriega removal. Our mission was to help teach the new Panamanian Coast Guard how to act and be proficient Coast Guardsmen. Admiral Rojas, a US Coast Guard OCS Graduate, was in charge. We did the same procedures we had done with the Costa Ricans except that the Panamanians had not received their two excess 82-foot patrol boats so we used captured shrimp/fishing boats. Their personnel were anxious for the training but they were severely lacking in equipment and funding. The US Embassy usually fueled their "Cutter" for our patrols. We sometimes supplied them with food and at other times they would just veer off toward an island to get food and water. Primitive but effective!

OF ALL THE MEDALS, AWARDS, QUALIFICATION BADGES OR DEVICE YOU RECEIVED, PLEASE DESCRIBE THE ONE(S) MOST MEANINGFUL TO YOU AND WHY?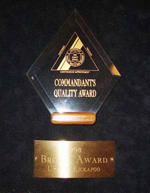 Of the devices the OIC Afloat was particularly meaningful as it meant that I had excelled at my profession and gained the trust and respect of my superiors and shipmates. I was able to accumulate over 24 years of Command Cadre in my 32 years of service.

The other award that comes to mind is in the late 90?s the CG was getting into TQM, (Total Quality Management) and every one was doing self-studies and critical evaluations of how we did our business and served our customers. I was ask by an evaluator to let my unit be placed on display and evaluated. The evaluation was set up as a competition and for some reason I actually won the first, and maybe still, only Commandants Quality Award by an Enlisted Officer in Charge. When I retired I was given the Award to keep.

WHICH INDIVIDUAL(S) FROM YOUR TIME IN THE MILITARY STAND OUT AS HAVING THE MOST POSITIVE IMPACT ON YOU AND WHY?

A person encounters all kinds of Coast Guardsmen--leaders as well as peers--who do not always set the best of examples. I knew and worked for some of these types and sometime would get caught up in their less than stellar behaviors and occasionally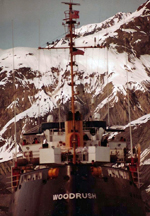 wandered from a good path. But thanks to the good role models I was taken to task and straightened out. Among them, and I'm sure there were more, which had the most positive impact on me were:

BMC John Nord who first took an interest in me and made me stand up to challenges at a young age. I was fortunate to have worked with him twice on CGC Sorrel and at Security force Kodiak.

CWO James Sebastian Station Sturgeon Bay. His professionalism and attention to detail were phenomenal and an inspiration for me to emulate.

CWO Ken Siders CO on CGC Bluebell for his professionalism coupled with stubbornness that taught me the River ways before I was assigned to the Western Rivers.

Captain James Force the CO of Woodrush heaped duties and responsibilities on me during extremely trying times. He became one of my best role models and remains one of my closest friends.

WHAT PROFESSION DID YOU FOLLOW AFTER YOUR MILITARY SERVICE AND WHAT ARE YOU DOING NOW? IF YOU ARE CURRENTLY SERVING, WHAT IS YOUR PRESENT OCCUPATIONAL SPECIALTY?

When I retired in August 2002 my wife Terri had been a highly successful interior decorator in Jackson, Mississippi. Sensing she could easily move away at any time, the owner of the company she worked for offered me a job selling floor coverings. With time on my hands I agreed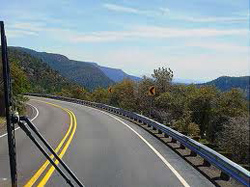 and while I did OK as a salesman I knew it was never going to replace driving a boat. After nearly four years my wife and I decided it was time to move on. For her it was increased stress from working with demanding clients for so many years. For me, I felt we had let the grass grow under our feet for too long and it was time to move on and enjoy the United States for a while. We quit our jobs, sold our house in Clinton, Mississippi, moved into our 40-foot Monaco Diesel Pusher RV and hit the road of travel and adventure.

The two and a half year adventure took us all over the United States, Mexico and Canada. Sometimes we travelled as Wagon Master leading caravans to Mexico, Alaska and National Parks for a caravan company operating out of Texas and at other time we travelled by ourselves. It was a wonderful journey of self-discovery and seeing some of the most wonderful sights in North America. Those memories are forever.

By 2007 we felt we were done with our endless road travel and began entertaining a new direction. What that would be we did not yet know. Then by sheer luck the destination became clear: My son-in-law called saying he and a partner had bought a Towboat Company in South Louisiana and needed Wheelman/Masters, Captains. When he asked if I would be interested I said yes. Out of the blue, although I retired from active duty, I was not yet done with watercraft.

I check and found I could get a license with some red tape and studying and finally got a 1600T unlimited inland license and went to work pushing petroleum products anywhere from the western rivers to Corpus Christi. We bought a new house in Houma and for the next five years I was running Towboats.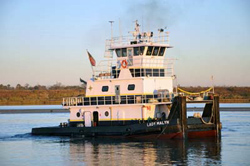 The first summer in Houma were hit by Hurricane Gustav. We lost our fence but the house came through with very little damage.

Over time I learned there was a huge difference in how the CG did things and how they did thing in the real world. However, by tying the things I learned in the CG with what I was learning in the civilian arena I learned quickly and rose to the Captain position. For over two years I have been Captain of the MV Lady Malyn--named for my granddaughter. I just went through the first renewal of my License and it is good for 5 more years.

We have since moved to the Piney Woods of Louisiana in Ruston La. Nice to be away from the Hurricanes every year threatening your family, home and property. We bought a nice home, on a large lot in a very peaceful setting. We are parents of five: Terri's three and my two. We are also grandparents of eight grandchildren scattered from Port Angeles to Missouri to Texas and Louisiana.

IN WHAT WAYS HAS SERVING IN THE MILITARY INFLUENCED THE WAY YOU HAVE APPROACHED YOUR LIFE AND YOUR CAREER?

The same values and methods I used in the CG are used out here in the marine transportation industry. The only difference is the civilian population expectations, which we respect at all times as they really do pay our salary. The leadership principles I learned in the CG also come into play, such as leading by example and being a team player. This is especially important as our boats do not have the manpower to kept things shipshape so we all pitch in. I've become a diesel mechanic (minor) and cook, dishwasher, boat scrubber, etc.

BASED ON YOUR OWN EXPERIENCES, WHAT ADVICE WOULD YOU GIVE TO THOSE WHO HAVE RECENTLY JOINED THE COAST GUARD?

Serve until you have to stop but make sure you keep your eye on the future, save for your retirement and plan way ahead. Too many people retire thinking they get to kick back and play only to find out how dependent they are on all the benefits of active
duty. Become indispensable to your bosses, never become a burden. When ask to train your relief do it in an outstanding fashion. It hopefully means you will advance to greater levels.

Come out into the civilian world with open minds. We all get used to the subordinates in the CG as professional people who want to work hard but also 'have' to work hard. There are great people out here that may want to work and make a good living but nothing makes them 'have' to work for you they can move to the next company with no problem. You will have to modify your expectations just a little which, in turn, will require you to adjust your leadership techniques, you can still use the things you have learned but with slight modifications.

Get educated! Use whatever courses or opportunities that are available to you. It was a real eye opener for when I went to get my Masters License and had to sit in the classroom listening and taking notes then going home and studying and doing homework. Be prepared to be challenged. I was and benefited because of it!

If you want to stay in the marine industry get your License as soon possible and keep it active. All the time you spend on boats and ships will add up when it is time to upgrade. This is a great job and the pay opportunities are most lucrative.

IN WHAT WAYS HAS TOGETHERWESERVED.COM HELPED YOU REMEMBER YOUR MILITARY SERVICE AND THE FRIENDS YOU SERVED WITH.

For starters, people I haven't heard from in years have contacted me through TWS and friendships have been renewed. I've even found new friend with common backgrounds and experiences.

I also like the 'feel' and look of the site. Other social media sites like Facebook and Twitter have too much stuff going on. The way TWS is set up allows me to search for old friends and once found, stay in touch with them. I also like the forums where I interact with other members on a whole range of subjects.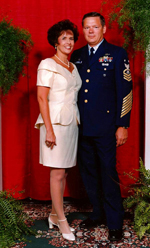 BMCM Tracy Johnson
Contact This Member


Read Other Interviews in the TWS Voices Archive
TWS VOICES
TWS Voices are the personal stories of men and women who served in the US Military and convey how serving their Country has made a positive impact on their lives. If you would like to participate in a future edition of Voices, or know someone who might be interested, please contact TWS Voices
HERE
.
---
This edition of Coast Guard Voices was supported by:
---
CoastGuard.Togetherweserved.com
For current and former serving Members of the US Coast Guard and US Coast Guard Reserve, TogetherWeServed is a unique, feature-rich resource enabling Coast Guardsmen to re-connect with lost Shipmates, share memories and tell their Coast Guard story.
To join CoastGuard.Togetherweserved.com, please click
HERE
.
---