An up close and personal interview with U.S. Coast Guard Veteran and Togetherweserved.com Member:
BMCM Carl Lawson U.S. Coast Guard (Ret) (1956-1978)
PLEASE DESCRIBE WHO OR WHAT INFLUENCED YOUR DECISION TO JOIN THE COAST GUARD?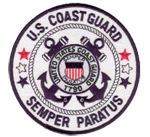 The stories my cousin Norman told me about his experiences serving with the US Navy during WW II greatly influenced my decision to join the Navy. At the time I had never heard much about the Coast Guard.

WHETHER YOU WERE IN THE SERVICE FOR SEVERAL YEARS OR AS A CAREER, PLEASE DESCRIBE THE DIRECTION OR PATH YOU TOOK.

I did something in the summer of 1956 I wanted to do all my life: I joined the US Navy. I had just turned 17 so my parents had to sign for me. An enlistment at that time was for 8 years: 4 years active and 4 years Naval Reserve.

On August 3, 1956 I and ten other recruits departed for Recruit Training Command, Great Lakes where I was assigned to Company 529, Camp Dewey, 10th regiment. When I arrived at the training center at 10pm, I was very tired and shaking in my boots. We were issued brand new,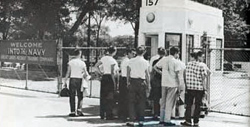 clean uniforms that the drill instructors claimed were dirty and had to be washed. We washed these new uniforms and dungarees until 2 am before we were allowed to hit the sack. There were fifty of us in one large room with double bunks.

When we fell out at 5:30am for our first day of boot camp, I found out that I could run for a mile without stopping. Boot camp was 14 weeks of drilling, physical fitness, and many hours of classroom work and during most of that time, there was no guarantee about schooling, rates, or assignments after graduation. While in my 7th week I volunteered for Aviation Duty but only because my Company Commander stared me in the eye with a very mean look and said, "We need someone to volunteer for Aviation Duty." I couldn't say yes fast enough!

One of the proudest days of my life was Graduation Day, November 3, 1956.

I received orders to proceed to Pensacola NAB, Florida for Advanced Training Unit 206. I was also promoted to Seaman Apprentice but back in those days everyone was automatically promoted after boot camp. After 2 weeks leave I arrived at Pensacola NAB. I was a Boatswain Mate striker and my job was mainly guarding jet planes, including those belonging to the famous Blue Angels. I was also part of the base fire department. Whenever there was a threat of bad weather we would push all of the planes out of the hangars to be flown inland to safety.

I was at Pensacola for 3 months when I was promoted to Seaman (E-3). After a year at Pensacola I received orders to Surface Craft Division, Guantanamo Bay Naval Base at a time when Cuba was embroiled in a three-year armed revolution led by Fidel Castro against the regime of Cuban dictator Fulgencio Batista. The revolution became known as Fidel Castro's 26th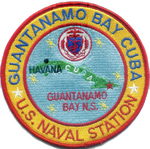 of July Movement which finally ousted Batista on New Year's Day, 1959. Castro quickly formed a revolutionary government along communist lines.

Another Seaman and I were the last two military servicemen to fly commercial airlines into Havana as the Castro forces were starting to shoot at all government planes including Cuban commercial air lines. We grabbed another flight to Guantanamo City (about 50 miles from the base) but when we landed, we found the city was engaged in fierce battles with machine gun fire everywhere, people running around and prostitutes trying to drag us into the brothels. It was a frightening scene and when we wanted help, we couldn't find anyone that spoke English. We eventually flagged down a cab whose driver spoke passable English. He agreed to take us to the base for $20, a lot of money back in 1957 since our base pay was only $78 a month plus $9 per month for overseas pay. We felt relieved and safe once we finally arrived at Guantanamo Bay Naval Base which would be my home for the next 31 months.

I was assigned to a 104 foot salvage derrick, the YSD-21. After 3 weeks of training I became the vessels crane operator. Our mission consisted of assisting ships of the Atlantic Fleet while they were at Guantanamo Bay for underway training.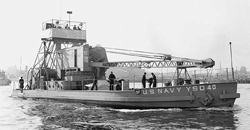 There was no liberty at Guantanamo Bay because of the revolution, which was still the case after Castro came to power. I mainly spend most of my off duty time fishing. In June 1960 I departed Cuba and headed for Jacksonville NAB for discharge and home to Detroit. Photo is of the YSD-40 which was a complete duplication of YSD-21

Much as it is like today the economy in 1960 was not very good and I was having a hard time finding a decent job. Around October 1960 I decided to go back in the Navy. The Navy was glad to have me back. All I had to do was pass physical and mental tests. I arrived early at the Naval Recruiting Office, Federal Building in Detroit only to find the Navy recruiters were all at lunch and the office closed. The Coast Guard Recruiter across the hall invited me in to wait and have a cup of coffee. While waiting for the Navy Recruiters to return, the Coast Guard Recruiter told me there would be no boot camp since I already went through it in the Navy. Moreover because I still had all of my uniforms (which were the same as the Navy with the exception of the Treasury Department shield), I would receive a $200 clothing allowance and wouldn't have to buy any uniforms. He also said I could have my choice of duty stations. I was sworn into the Coast Guard before the Navy Recruiters finished their lunch. I have never regretted it!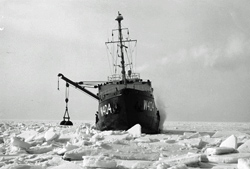 I entered the Coast Guard as a Seaman (E-3) and received orders for the US Coast Guard Cutter Sundew out of Charlevoix, Michigan. The USCGC Sundew was a 180 foot Buoy Tender responsible for maintenance of 179 Buoys and many lighthouses on Lake Michigan and Lake Huron with the added responsibility of Search and Rescue and breaking up ice flows. I served on the Sundew for 4 years, where I was promoted to Boatswain mate 3rd class, 2nd class and was on the list for First Class. I ran the 20-man deck force.

In August 1964 I received orders to Coast Guard Station Grand Haven, Michigan. I was assigned as Executive Officer of the station and promoted to Boatswain mate First Class (E-6). During my time at Grand Haven, the station took part in 260 rescues.

In 1966 I received orders for recruiting duty as Officer-in-Charge of Recruiting Office Wausau, Wisconsin. While at Wausau I enlisted 120 men (we had not started enlisting women at that time) and was promoted to Chief Boatswain mate (E-7).

In 1969 I received orders as Officer-in-Charge of the Rock of Ages Lighthouse, Lake Superior. It was a lonely, desolate place atop a small rock formation.

In 1970 I received orders as Officer-in-Charge, Coast Guard Station Marquette Michigan. While at Marquette the station was involved in 103 rescues. Under my command, the station received the Coast Guard Unit Commendation medal; the first Great Lakes unit to ever receive the Unit Commendation.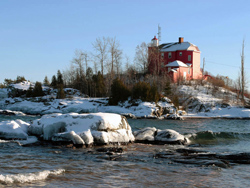 The UCM was awarded for performing an extremely hazardous rescue on Lake Superior, which resulted in saving five lives. We also shut down an oil company for polluting, another first for Lake Superior. I was personally nominated for the Douglas Munro Inspirational Leadership Award.

In 1973 I received orders back to recruiting duty, this time I was assigned as Officer-Charge Recruiting Office Worcester, Mass. I was promoted to Senior Chief Boatswain mate (E-8). In 1974 our Recruiting Office Worcester was recruiting office of the year for the New England 1st District.

In 1976 I was promoted to Master Chief Boatswain mate (E-9).I received orders to take command as Officer-in-Charge of the Coast Guard Cutter Point Hannon, an 82 foot patrol craft out of Jonesport, Maine. Our job was Drug Interdiction and Search and Rescue. I had an 8 man crew and a patrol area from Yarmouth Nova Scotia to Cape Cod Mass.

In 1978 I retired as a BMCM (E-9) and now live in Gladstone in Michigan's Upper Peninsula.

OF ALL YOUR DUTY STATIONS OR ASSIGNMENTS, WHICH ONE DO YOU HAVE FONDEST MEMORIES OF AND WHY? WHICH ONE WAS YOUR LEAST FAVORITE?

I have my fondest memories of my 4 years on the USCGC Sundew were the crew was a bunch of great, hard-working sailors and where I learned the true meaning of shipmates. Since the Sundew was my first Coast Guard Unit and being ex-Navy, I found I had a lot to learn about the Coast Guard and what a proud service it is. I also met the love of my life while on an ice breaking mission in her hometown of Escanaba, Michigan.

My least favorite assignment was as Officer-in-Charge of the Rock of Ages Lighthouse, Lake Superior. All I can say it was very lonely and boring.

FROM YOUR ENTIRE SERVICE CAREER WHAT PARTICULAR MEMORY STANDS OUT?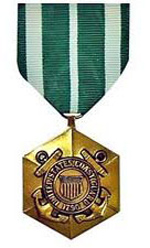 There was a couple: First has to be my first day in Cuba. Being witness to one of history's most famous revolutions of the 20th Century has never faded from my memory.

Second was the change of command ceremony where I was awarded the Coast Guard Commendation Medal for service performed as Officer-in-Charge of the USCGC Point Hannon.

IF YOU RECEIVED ANY MEDALS FOR VALOR OR AWARDS FOR SIGNIFICANT ACHIEVEMENT, PLEASE DESCRIBE HOW THESE WERE EARNED.

Coast Guard Unit Commendation earned during my time as Officer-in-Charge of Coast Guard Station Marquette, Michigan. Specifically for directing operations in which five lives were saved during hazard conditions.

Four Coast Guard Good Conduct Awards and a Navy Good Conduct Award.
Expert Rifle Medal
Enlisted Officer-in-Charge pin
Command at sea badge
Cuttermans Pin
Coxswain Pin
Search and Rescue Boat Operator
Recruiting Station of the year 1st Coast Guard District

OF ALL THE MEDALS, AWARDS, QUALIFICATION BADGES OR DEVICE YOU RECEIVED, PLEASE DESCRIBE THE ONE(S) MOST MEANINGFUL TO YOU AND WHY?



The Coast Guard Unit Commendation awarded to the Coast Guard Station Marquette while I was Officer-in-Charge. Although I directed the operation it was my brave men that risked their lives to save five persons from certain death. Marquette Rick also received a presidential citation from President Nixon for rescuing two small children during hazardous conditions.

WHICH INDIVIDUAL(S) FROM YOUR TIME IN THE MILITARY STAND OUT AS HAVING THE MOST POSITIVE IMPACT ON YOU AND WHY?

First of all was Seaman Richard O'Rourke who came to Marquette Station Rick right out of boot camp. His exploits were numerous, including his role in saving those five lives on Lake Superior. He never questioned my orders, no matter how dangerous. O'Rourke also accumulated a couple of awards during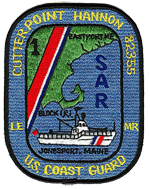 his time at the station including the prestigious Douglas Munro Award for Inspirational Leadership for being the US Coast Guard's most outstanding Coast Guardsman of the Year. He flew to Washington so it could be presented by the Commandant of the Coast Guard. There was also the Chamber of Commerce Man of the Year presented by the citizens of Marquette. He continued with the Coast Guard for 20 years and died shortly after retirement.

The second individual was BM1 Gerry Moores, my Executive Petty Officer while I was OIC of USCGC Point Hannon. A native of Lubec, Maine, he knew the coastline better than anyone in the unit. This, along with his remarkable skills as a navigator, got us through some tough situations while at sea. He was a steady leader of men and fearless during times of danger. He was a fantastic executive and a great friend. He retired as a Master Chief Boatswain Mate.

CAN YOU RECOUNT A PARTICULAR INCIDENT FROM YOUR SERVICE WHICH MAY OR MAY NOT HAVE BEEN FUNNY AT THE TIME, BUT STILL MAKES YOU LAUGH?

It happened during my tedious tour of duty while Officer-in-Charge of the isolated Rock of Ages Lighthouse in Lake Superior.

One morning I was standing on the crib deck of the lighthouse when I noticed a pleasure boat (cabin cruiser) within hailing distance and since I had not seen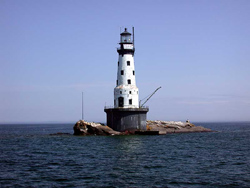 any civilians in a month I yelled, "Come on aboard for a cup of coffee." I helped tie the cabin cruiser up at our cement dock and escorted two gentlemen and their wives up the ladder and into the lighthouse and up to our mess deck. I served them coffee and some fresh pastry. As we were chatting, the ladies asked me if it was possible to tour the lighthouse. Knowing the other two men in the lighthouse were working in the generator room below and we'd not intrude when we went through their bedrooms, I said "Sure."

The first floor after the mess deck was my quarters and also the senior engineer's quarters. As I started to open the door I remembered that we had wallpapered the entire room including closet, backs of doors, dresser drawers, everywhere imaginable with Penthouse and Playboy centerfolds. Before going in I asked them if they would be offended if they saw a few pictures on the wall. They laughed and said, no, adding their husbands had a Penthouse aboard their boat. I will never forget the shocked look on their faces when they saw our walls entirely covered with centerfolds. They are probably still talking about it today.

WHAT PROFESSION DID YOU FOLLOW AFTER YOUR MILITARY SERVICE AND WHAT ARE YOU DOING NOW? IF YOU ARE CURRENTLY SERVING, WHAT IS YOUR PRESENT OCCUPATIONAL SPECIALTY?

After Military service I went to college for two years and majored in Criminal Justice.

I was hired as a loss prevention officer at our local paper mill. I worked there for 16 years and retired in 1996. Now I am fully retired and enjoy going to sporting events in which my grandchildren play.

WHAT MILITARY ASSOCIATIONS ARE YOU A MEMBER OF, IF ANY? WHAT SPECIFIC BENEFITS DO YOU DERIVE FROM YOUR MEMBERSHIPS?

I am a member of the Coast Guard Chief Petty Officers Association.

IN WHAT WAYS HAS SERVING IN THE MILITARY INFLUENCED THE WAY YOU HAVE APPROACHED YOUR LIFE AND YOUR CAREER?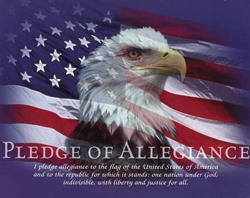 Joining the Navy and being thrown together with those who come from different parts of the country, different social-economic environments and different kinds of lifestyles helped me grow up faster than I would have had I stayed at home.

I learned self-discipline and the knowledge of what it takes to get ahead. With a definable rank structure, I could set my sights on the next level of responsibility and work toward that end. I became a self-started and in charge of my own destiny. I also learned "sometimes the hard way" not to take things for granted and always expect the unexpected.

With 20-years in military service I learned the value of patriotism and pride in being an American. I still get misty eyed when I hear the Star Spangled Banner or say the pledge of allegiance.

BASED ON YOUR OWN EXPERIENCES, WHAT ADVICE WOULD YOU GIVE TO THOSE WHO HAVE RECENTLY JOINED THE COAST GUARD?

Be professional in the way you conduct yourself on and off the job. Whatever you assignment whether on land or at sea, know your job thoroughly and be familiar with the job of your superior for there may come a time when you will be called upon to step into his or her job.

IN WHAT WAYS HAS TOGETHERWESERVED.COM HELPED YOU REMEMBER YOUR MILITARY SERVICE AND THE FRIENDS YOU SERVED WITH.



There are few places where a former, retired or active duty service member can go to be among their own. TWS offers that place and so much more. It is a place to reconnect with old buddies and to meet new ones. But what I enjoy the most is reading the stories of other members. I'm not just talking about Coast Guard members but all the military services. I go to their sites as a visitor and check out their profiles and read their reflections and Voices. We are a brotherhood that only those that have served can understand.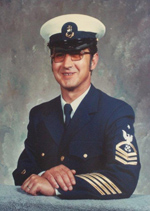 BMCM Carl Lawson
Contact This Member


Read Other Interviews in the TWS Voices Archive
TWS VOICES
TWS Voices are the personal stories of men and women who served in the US Military and convey how serving their Country has made a positive impact on their lives. If you would like to participate in a future edition of Voices, or know someone who might be interested, please contact TWS Voices
HERE
.
---
This edition of Coast Guard Voices was supported by:
---
CoastGuard.Togetherweserved.com
For current and former serving Members of the US Coast Guard and US Coast Guard Reserve, TogetherWeServed is a unique, feature-rich resource enabling Coast Guardsmen to re-connect with lost Shipmates, share memories and tell their Coast Guard story.
To join CoastGuard.Togetherweserved.com, please click
HERE
.
---