An up close and personal interview with Coast Guard Veteran and Togetherweserved.com Member:

PO1 William Byrd (USCG 1967-1978)



WHAT PERSUADED YOU TO JOIN THE Coast Guard?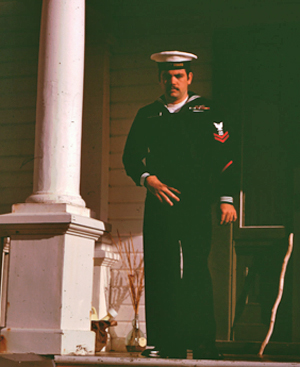 I am originally from Baltimore, Maryland. In the mid 1950's my Mom remarried and my Step-Father, Mosman Villanueva, was at the time a Coast Guard seaman. He was a great guy who eventually retired as a Chief Boatswain's Mate. I also had an uncle in the Coast Guard, my Grandfather was a Merchant Marine Chief Engineer and a Reserve Coast Guard Commander and one of my brothers spent four years in the Coast Guard. I also had two brothers who were in the Army, and one in the Navy, but we don't talk much about the brother that was in the Navy.

We were living in Astoria, Oregon in 1967 and my Step-Father was XO on the White Bush, a buoy tender. After high school I was enjoying one big party. One night we had a talk about my military obligation and soon after that Dad asked me to take a ride with him to Eugene, OR to see an old friend. After we were on our way he told me his old friend was a Coast Guard recruiter. I talked to him, took some tests, and later I thought "why not?" So a couple of weeks later we drove back to the recruiting office in Eugene and my Dad swore me in. They immediately had me sweep the deck in the recruiting office; then sent me on my way to boot camp in Alameda, California. That was 20 November 1967, I graduated Recruit Company Bravo-61. So, Dad was in large part responsible for my joining the Coast Guard, he passed away on 13 April 2009.

BRIEFLY, WHAT WAS YOUR CAREER PATH IN THE SERVICE?


I spent a total of eleven years on active duty in the Coast Guard and made BM1 before I left. After completing Boot Camp I went to Station Quillayute River near La Push, Washington down the Pacific Coast from the entrance to the Straits of Juan de Fuca. I reported as an SA in 1968 and left as a BM2 in 1973. We had a 44 foot MLB (Motor Life Boat), the 44363, which was the first lifeboat I ever set foot on. As a side note, that boat was later wrecked in 1997 in an accident that took the lives of three of the four crewmen. We also had one of the old wooden 36 foot lifeboats that was replaced with another 44 footer while Iw as there. With all of the Search and Rescue (SAR) calls we had I got to know the 44 foot MLB very well.

At Quillayute we did a lot of SAR, all fishing and pleasure craft, averaging 300-350 calls between May and October. We also maintained some light aids to navigation and we provided support for Destruction Island Lighthouse, which was manned by a small crew in my early years at Quillayute. The Light was automated later on so then we just made runs from time-to-time so the tech could check it.

I served with a great bunch of guys, the type of fellows that put their lives in your hands and yours in theirs. There was real trust, not only on the boats, but all the time. For example you could leave money on your bunk and not lose any of it.
I completed what was then the 13th District Small Boat Training School at Cape Disappointment, Washington on 4 April 1969 - I can't believe how long ago that really was. That school is now called the National Motor Lifeboat (MLB) School. I went as a non-designated seaman (E-3) and finished with an MLB Coxswain qualification. The school was six weeks as I recall and I was the only non-rated guy in the class which was mostly BM2s, BM1s, and a couple of BMCs. Being the kid of the class, and least experienced, every time we got underway they put me in the chair [i.e. as Coxswain at the helm] so I got a lot of hands on experience and one-on-one training. A few years later I earned the All Weather Coxswain designation.

In 1973 I was transferred to New Dungeness Light to be the OIC. I almost missed that assignment because I was injured on a rescue in July '73 which was my last SAR case at Quillayute River. There was a beached fishing boat and we were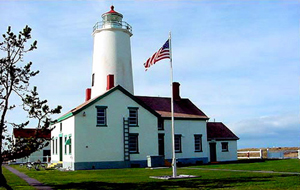 trying to get it free. I volunteered to go aboard and work the lines and after I secured it there was a surge. The line went taut and the shock violently yanked free the cleat I'd tied off to the mast. I was not quick enough and when the cleat flew back it hit me high on my forehead. I went down but got up bleeding the way head wounds do. I didn't realize it just then but the blow had crushed a piece of my skull. I was flown to Seattle for surgery where they put some plastic in my forehead - it's still there. I was in the hospital for 10 days before going back to my unit. The neurosurgeon who worked on me signed off for me to go back to duty with my unit but I was essentially out of commission for a month. They wanted to cancel my orders but I was able to convince the Deputy Group Commander to let me go.

I spent three years at New Dungeness Light Station, a great place. The light sits near the end of a natural 5 mile long sand spit and it's only accessible at low tide by 4x4 vehicle, by 16 ft skiff, or by helo. I made 1st Class during that assignment. The light was automated in 1976 and I was reassigned to USCGC Boutwell, WHEC719, Seattle, WA.


I spent a total of two years aboard the Boutwell, and most of that time was spent on Fisheries Patrol in the Bearing Sea, I've lost count of how many Japanese fishing boats I boarded.

I was then assigned to Station Channel Islands, Oxnard, CA, another SAR station. I went from the rains of Seattle to sunny Southern California, that was August 1978.

It was about that time that my ex-wife was pressuring me to get out and, like some others then, I felt the Coast Guard was changing and not for the good. The caliber of the people being taken in then, call it their moral fiber, was not what I felt were the best. What we used to say was "The Coast Guard got the best, the others got the rest". Well, I listened to the ex when I should have listened to my head and I pulled the plug. I do think about "What if I'd stayed in" each November 20th, the anniversary of my first enlistment. Although I got out, I know that being in the Coast Guard was one of the best things I ever did. I got to do SAR for my first five years then I was in charge of a major navigation aid and I also got to run the deck force on a white cutter - life was good.

FROM YOUR ENTIRE SERVICE CAREER WHAT PARTICULAR MEMORY STANDS OUT?

On one of my last SAR calls while at Quillayute, it was January or February of 73, we had a call with winds at the station that were in excess of 50 knots and seas of 25-30 feet. Some guy tried to make it solo from Grays Harbor to Seattle in his small commercial fishing boat. He was probably 18 miles south of Quillayute River when we got the call that he was broken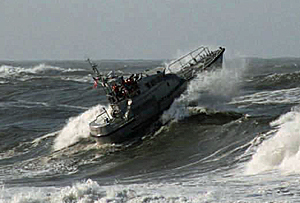 down. Four of us went out, two Coxswains, a Seaman, and an Engineer. The Engineer got slammed against one of the main propulsion engines and got a solid injury to his ribs. The injury put him out of action so we helped him below to stretch out and try to keep his ribs from more damage and pain. With him out the Seaman and I handled the deck and the other Coxswain took the helm.

The wind and seas were from the south and we were headed right into it, it took about two hours before we made rendezvous with the disabled boat. Once on scene we passed a tow line which he made fast but as we were paying out line to take him in tow it suddenly went slack. We retrieved the line and found we had a cleat and some rotten boards that had torn out of his deck. We called ashore for further orders but while waiting for a response we decided the best thing to do was to get him off the boat. Our request for orders kept getting pushed up the chain-of-command but we had no time to wait for that. The other Coxswain and I looked at each other, smiled and turned the radio off. He maneuvered close but it was very tricky in those conditions. We were finally able to send a line to him with a life jacket. He put it on as we stayed as close as we could while being thrown against his boat and we finally managed to pull him to us on a line made fast to the lifejacket. We got him situated below and returned to station. We then turned the radio back on and word had come down from District to take him off. We just said "Roger" and waited about five minutes then reported that we had him aboard - the Chief knew we had turned our radio off.

WHICH INDIVIDUAL PERSON FROM YOUR SERVICE STANDS OUT AS THE ONE WHO HAD THE BIGGEST IMPACT ON YOU...AND WHY?

That would be the XO at Quillayute, BM1 named Richard Deer. He later returned as BMC and became the OIC. Chief Deer was a fantastic boat handler, one of the best I ever knew. He was very patient when we were learning. If you had duty and you were not comfortable with the weather he would go out with you, all you had to do was call, but he always found a reason never to take the helm. He taught me well and helped all of us become proficient and confident boat handlers. The harbor entrance at La Push was tricky, coming in from the south with a dog leg to the right. The entrance was a passage between a long breakwater on the East side and a small island quite near on the West side, if you turned too soon you could find yourself in trouble very quickly.

DO YOU HAVE A PARTICULARLY FUNNY STORY FROM YOUR SERVICE YEARS THAT YOU WOULD LIKE TO SHARE?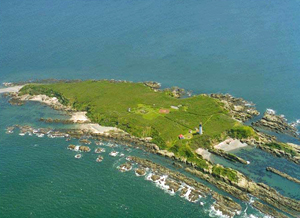 I recall the Butchy Lee, a fishing vessel that struck a deadhead and put a six inch hole next to shaft. There was one old gent aboard that didn't notice anything wrong until had taken on a lot of water. He was then near Destruction Island, about 18 miles away. He had about 2 feet of freeboard left at the stern when we reached him; he'd lost about half and for quite a while he hadn't noticed he was sinking. We put an eductor aboard with a float pump and an extra, as well as two more that a helicopter from CG Air Station Port Angeles, Washington brought to the scene. We found the hole when the Seaman in our crew stuck his foot in it. We told him to keep his foot in the hole until we got some DC plugs off the 44, wrapped one in some blanket pieces and stuffed it in the hole. Fortunately the weather was good with only one or two feet seas. When we got back to the station dock, Chief Tom Johnson, then OIC, came down and told us we'd done a good job. Then he said, "Congratulations you just made 2nd Class Petty Officer today," and threw me in the water.

WHAT PROFESSION DID YOU FOLLOW AFTER THE SERVICE AND WHAT ARE YOU DOING NOW?

For the past 31 years I have worked for the Boeing Company in Seattle/Everett, Washington. God willing and the creek don't rise I will retire in January 2012.

HOW HAS SERVING THE ARMED FORCES INFLUENCED THE WAY YOU HAVE APPROACHED YOUR LIFE AND CAREER?

I learned to always do my best, be honest, and get the job done, that has stayed with me into civilian life. I also try to learn all that I can at every opportunity and pass that knowledge on to others.

WHAT ADVICE WOULD YOU HAVE FOR THOSE WHO ARE CURRENTLY STILL SERVING IN THE MILITARY?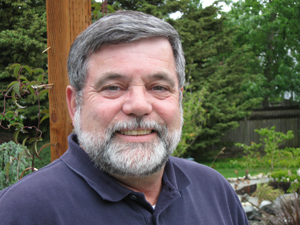 I would tell anyone who is still serving in uniform to be true to yourself and to the people you serve with. While it might seem like forever, your time in the service is actually short - make the most of it.

HOW HAS TOGETHERWESERVED.COM HELPED YOU TO MAINTAIN A BOND WITH THE SERVICE AND THOSE YOU SERVED WITH?

I keep in touch with old shipmates on the site and I think as a few more candles are added to the birthday cake I'll spend more and more time looking up people and reconnecting with people. Togetherweserved will always be a starting point for me, I really enjoy the site.

PO1 William Byrd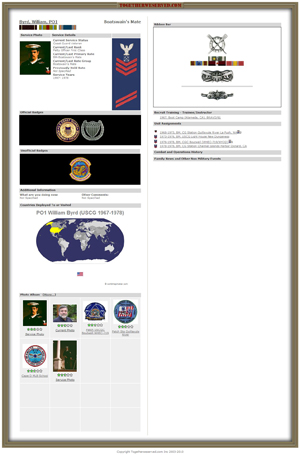 View PO1 Byrd's Shadowbox on TWS