Service Photo
Service Details

Current Service Status
USCG Auxiliary Active
Current/Last Rank
District Vice Commander
Current/Last Primary Rate
MS-Marine Safety and Environmental Protection (Auxiliary)
Current/Last Rate Group
Auxiliary
Primary Unit
2017-2017, AUX, CG Station Toledo
Previously Held Rate
AA-Airman Apprentice
CS-Communication Services (Auxiliary)
IS-IS-Information and Communication Services
CM-Communications (Auxiliary)
OP-Operations (Auxiliary)
AUX-Auxiliary Food Service
PA-Marketing and Public Affairs (Auxiliary)
Service Years
1981 - Present
Official/Unofficial US Coast Guard Certificates

Shellback

Plankowner

Voice Edition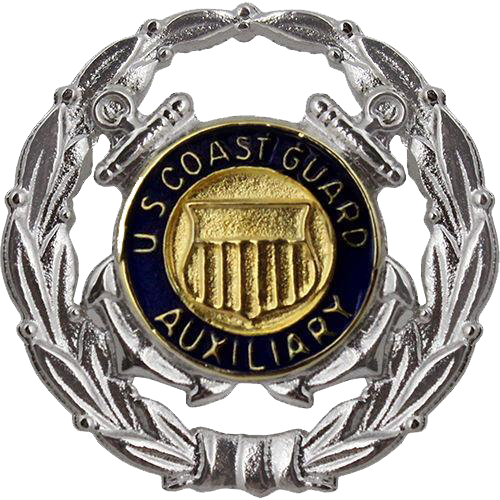 1986, Marine Corps League, MCL Dearborn Detachment 152 (Junior Vice Commandant) (Dearborn, Michigan) [Verified] - Chap. Page
1987, American Veterans (AMVETS) - Assoc. Page
1997, American Legion, Post 364 (Commander) (Dearborn, Michigan) [Verified] - Chap. Page
2007, Non-Commissioned Officers Association (NCOA) [Verified] - Assoc. Page
2010, Veterans of Foreign Wars of the United States (VFW), Post 2107, Lt. Archie Kelly Post (Sr. Vice Commander) (Dearborn, Michigan) [Verified] - Chap. Page
2010, American Cold War Veterans
2010, Cold War Veterans Association
2010, Marine Corps Together We Served
2013, Beirut Veterans of America (BVA) - Assoc. Page
2013, Patriot Guard Riders, Michigan Chapter (Michigan)
2014, Associates of Vietnam Veterans of America
2014, CGTWS Unit Historian
2014, CG Auxiliary Association (CGAuxA)
2014, Coast Guard Together We Served [Verified]
2017, National Coast Guard Museum Association - Assoc. Page
What are you doing now:
Currently the Operations and Technology Supervisor for Great Lakes Transportation (dba Metro Cars) supporting multiple sites on a MPLS and VPN networks, including 200+ mobile data terminals. Duties include 24hr Help Desk support, New Systems Deployment, Data Security, LAN support, Exchange administration, Database Administration, and just about everything else they can think of. We operate on a Client/Server base in a Virtual Machine environment.

I have recently been elected the Flotilla Commander of Flotilla 18-07 in the 9th Central District. Additionaly, I have been appointed by the District Comodoor to serve on the District Staff as the District Staff Officer for Marine Safety. I look forward to serving in these new positions to further the missions of the US Coast Guard and US Coast Guard Auxiliary.

Additionally I am a Vehicle Operator and Therapuetic Recreational Leader with the City of Westland, Michigan...Parks and Recreation Department. I oversee recreation type activities for children and adults with a wide and various range of disabilities.

Active in a few military groups...  Marine Corps League (Det 152, Jr. Vice), Military Order of the Devil Dogs (Pound 6), American Legion (Post 364, Sgt-at-Arms), Sons of the American Legion (Squadron 364, Adjuant), Dearborn Allied War Veterans Council (Adjuant), VFW, AMVETS, just to name a few....   They keep me very busy.

Of course, TWS get's a lot of my attention as well...active on various teams and projects here to make TWS a better place for all of our service men, women, and veterans !!
Other Comments:


United States Coast Guard
228th Birthday
August 04, 2018

United States Coast Guard Auxiliary
79th Birthday
June 23, 2018
~~~~~~~~~~~~~~~~~~~~~~~~~~~~~~~~~~~~~~~~~~~~

I will be attending the
 
3rd Annual TWS All Service Reunion
2018
TBD
Military and Civilian
Map Legend:
Military Deployments&nbsp
1982-1987, AA, USMC
2014-2014, Division 18 (Detroit River)/Flotilla 18-07
2014-2016, CS, Division 18 (Detroit River)/Flotilla 18-07
2015-2015, IS, USCGC Bristol Bay (WTGB-102/NRLY)
2015-Present, CG Station Belle Isle
2015-Present, CM, Division 18 (Detroit River)/Flotilla 18-07
2015-Present, IS, Central Region/Division 18 (Detroit River)
2016-2016, OP, USCGC Mobile Bay (WTGB-103/NRUR)
2016-Present, MS, Office of Shore Forces (CG-741)/Sector Detroit
2016-Present, MS, Division 18 (Detroit River)/Flotilla 18-07
2016-Present, IS, Division 18 (Detroit River)/Flotilla 18-07
2016-Present, MS, CG Auxiliary District 9/Central Region
2017-2017, PA, USCGC Bristol Bay (WTGB-102/NRLY)
2017-2017, AUX, CG Station Toledo


| | |
| --- | --- |
| | Please describe who or what influenced your decision to join the Coast Guard? |
| | Whether you were in the service for several years or as a career, please describe the direction or path you took. What was your reason for leaving? |
| | If you participated in any military operations, including combat, humanitarian and peacekeeping operations, please describe those which were the most significant to you and, if life-changing, in what way. |
| | Was there a particular incident during your service when you believed you were in a situation you might not survive? Please describe what happened and what was the outcome. |
| | Of all your duty stations or assignments, which one do you have fondest memories of and why? Which one was your least favorite? |
| | From your entire service, including combat, describe the personal memories which have impacted you most? |
| | What achievement(s) are you most proud of from your military career? If you received any medals, awards, formal presentations or qualification badges for significant achievement or valor, please describe how these were earned. |
| | Of all the medals, awards, formal presentations and qualification badges you received, or any other memorabilia, please describe those which are the most meaningful to you and why? |
| | Which individual(s) from your time in the military stand out as having the most positive impact on you and why? |
| | Please recount the names of friends you served with, at which location, and what you remember most about them. Indicate those you are already in touch with and those you would like to make contact with. |
| | Can you recount a particular incident from your service which may or may not have been funny at the time, but still makes you laugh? |
| | What profession did you follow after your military service and what are you doing now? If you are currently serving, what is your present occupational specialty? |
| | What military associations are you a member of, if any? What specific benefits do you derive from your memberships? |
| | In what ways has serving in the military influenced the way you have approached your life and your career? |
| | Based on your own experiences, what advice would you give to those who have recently joined the Coast Guard? |
| | In what ways has TogetherWeServed.com helped you remember your military service and the friends you served with. |

Mar 16, 1977, NROTC Events4
Jun 16, 2014, Forum Photos21
Jun 16, 2014, General Photos
Jun 22, 2014, 75th Birthday ~ Penns Landing, Philadelphia, PA8
Jun 23, 2014, USCG Auxiliary ~ 75th Anniversary1
Jul 08, 2014, Flotilla 091-18-07 ~ Flag Dedication6
Aug 11, 2014, American Legion 364 - Portifino Cruise58
Aug 12, 2014, Lighthouse ~ Belle Isle, Detroit, MI11
Sep 11, 2014, MIAP Funeral (13 Veterans)18
Jun 20, 2015, Detroit River Days7
Jun 25, 2015, AUX10 ~ C School3
Oct 10, 2015, 2015 Rouge-A-Palooza5
Dec 08, 2015, Flotilla 091-18-07 Christmas Meeting1
Feb 02, 2016, AuxMEES and MSTR Awards2
Jun 24, 2016, Detroit River Days20
Feb 04, 2017, Shiver on the River4
Feb 11, 2017, Detroit Boat Show6
Apr 01, 2017, District 9 Central ~ Spring D-Train
May 29, 2017, Memorial Day Parade (Dearborn, MI)162
Jun 20, 2017, D/9 Education Cruise - CGC Bristol Bay
Jun 23, 2017, 2017 Detroit River Days (Day 1)15
Jun 24, 2017, 2017 Detroit River Days (Day 2)14
Jun 25, 2017, 2017 Detroit River Days (Day 3)11
Jun 26, 2017, 2017 Detroit Fireworks
Aug 30, 2017, MOM Patrol aboard the "Rachel M"7
Sep 07, 2017, District 9 Central ~ Fall D-Train
Sep 15, 2017, Aux Food Service Training
Dec 17, 2017, Wreaths Across America
Feb 03, 2018, Detroit: Shiver on the River9